CD Storage 1.0.9
---


Can't find the right CD you want?

More CDs you have, more difficult to pick up right one!

In fact, everyone encounter this problem.


WHAT CAN I DO? Simply run CD Storage. Find CD by One Click!
Screenshot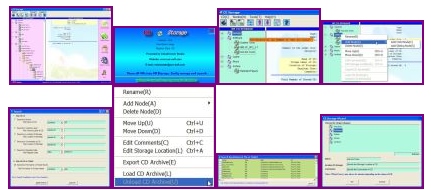 click them to view enlarged pictures
Introduction


▲Store file system of CD into database
▲Explore CD at any moment without CD itself
▲Locate wanted CD quickly
▲Search wanted file and corresponding CD quickly
▲Export file system of CD as text file
▲Add comments and location information etc. for stored CD
▲Backup and restore database system easily
▲Applicable to all kinds of CD(Optical Disk), including data-CD, audio-CD, VCD, DVD and so on
▲Indispensable Software for Everyone
How to Purchase


Purchase Entrance
To check purchase and registeration detail procedures, please run software menu
"Help->Register Software"
Buy by PayPal directly:
Pay registration fee to PayPal account (webmaster@our-soft.com) and get license immediatedly.(Click above purchase link to know the registration fee)
Download Address

---
All rights reserved. Our-soft.net | CloudCrown Studio. 1998-2009
E-mail: webmaster@our-soft.com
MSN: webmaster@our-soft.com